Ahmed Idris Arrest: Adamu Garba reveals biggest corruption in govt, scores APC low
Biggest Corruption in Government: A former presidential aspirant under the platform of the All Progressives Congress, APC, Adamu Garba recently took to his Facebook page to react to the arrest of the Accountant General of the Federation, Ahmed Idris by the EFCC. Adamu Garba said,
"This is the biggest corruption by a corrupt government. An Accountant General was arrested who was supposed to manage government accounts over N80bn looter. That means he stole N400 for every Nigerian of 200 million. Just one person! Shame on the APC government."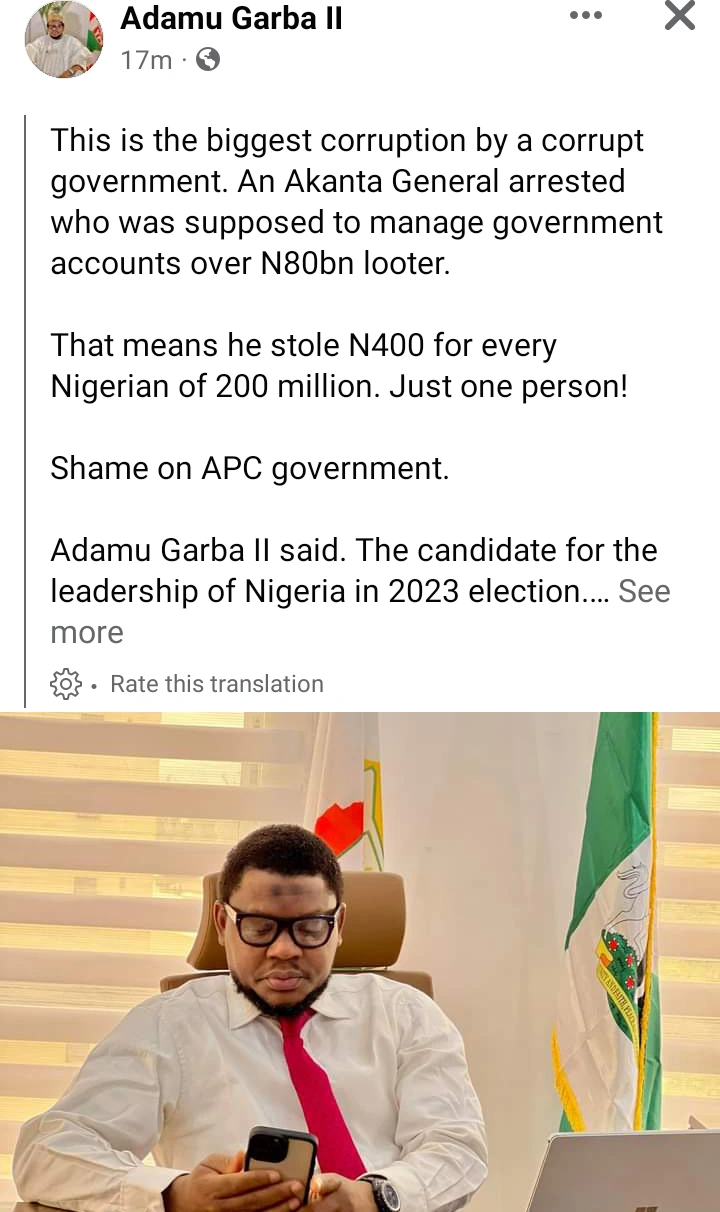 All these government officials are putting the work of PMB. When one puts it alit l into summation, we can say PMB did well even though the ingredients to have done better were there. Because many Nigerians believe that he has done well but could have done far better since the ingredients to do better were there & available, we, therefore, must be careful who succeeds him.
Now, this is where the individual performance in office & departments of his lieutenants, aides & experts who worked with him & are now vying to succeed him must be xrayed with painstaking intensity.
The performance of Osinbajo in his constitutionally assigned portfolio – the economy, his advisory roles in judiciary & probably liaison duties in education between ASUU & the presidency; the performance of Amaechi in the transport ministry; the performance of Nwajiuba in the education ministry; & the performance of the CBN governor – Emefiele in the management & regulation of our revenue, investment funds, financial, monetary, banking & FOREX policies & implementations must be scrutinized & appraised objectively without emotions to help us make better choices that will better PMB's performance. It's not an indictment of failure on PMB. No!