Atiku Abubakar bows to pressure deletes post on students killed for allegedly 'insulted' Prophet Mohammed
Presidential hopefulAtiku and former Vice President of Nigeria, Atiku Abubakar has deleted his social media posts condemning the murder of Deborah Samuel, a student of Shehu Shagari College of Education.
Deborah was murdered on Thursday morning for allegedly posting comments that blasphemed Prophet Mohammed.
According to the reports her offence was that she insulted Islam. Deborah said, "Holy ghost fire, nothing would happen to me, is it by force you guys would always be sending these religious stuff in the group, the group wasn't created for that, but rather as a notice for when there's a test, assignment, exams etc not these nonsense Religious posts.
But Atiku took to social media on Thursday evening to demand justice for Deborah.
"There can not be a justification for such gruesome murder. Deborah Yakubu was murdered, and all those behind her death must be brought to justice. My condolences to her family and friends," Atiku wrote on Facebook and Twitter.
But the posts by Atiku were taken down after fanatics threatened his 2023 presidential ambition.
Most of the commenters on the post on Facebook said that Atiku has lost the 2023 election for condemning the death of Deborah.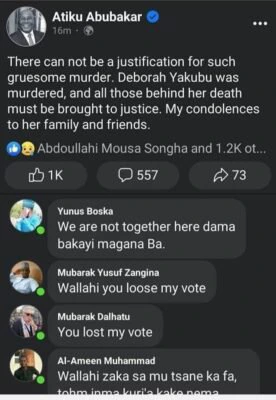 The post on Facebook was however deleted around 10:20 p.m, less than an hour after it was published.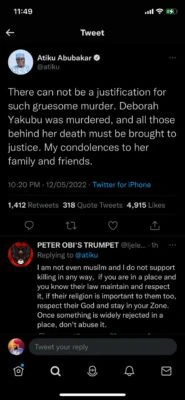 The post on Twitter also disappeared after that of Facebook was taken down.
As a result of this, Atiku has been trending on Twitter for deleting his post on the gruesome murder. Nigerians react in anger for him not to be able to stand for what is right. The discussion continues on Twitter.