Bad news for Man United as their target, Erling Haaland ready to sign for rivals
Borussia Dortmund's goal machine Erling Haaland has been in the news lately as many clubs are looking to sign him to boost their squads.
Latest news might be ranked among the worst news for Manchester United fans have read over the last several months. Everybody around Manchester United fraternity have been dreaming about the possibility of getting a superstar who can offer the missing part of the attacking threat.
Whenever this discussion comes on board, everybody has been thinking about the possibility of signing Erling Haaland. The Norwegian striker has proven to be the best youngest striker in the world.
According to the emerging news, Manchester United is likely to miss this player after Barcelona started serious talks with his agent (Mino Raiola) to sign the player.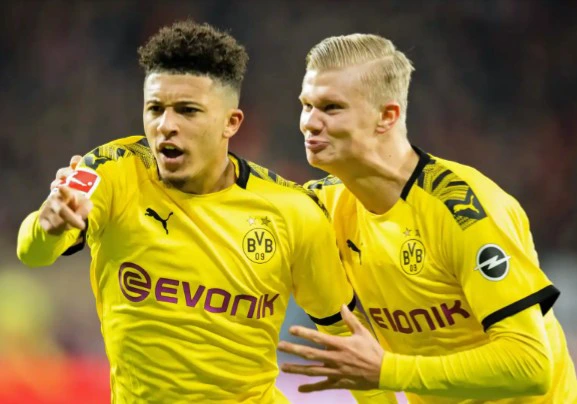 Fabrizio Romano tweeted "Mino Raiola is in Barcelona right now, true and 100% confirmed as Sport reported. He's landed today after meeting with BVB in Dortmund in the last days to talk about Erling Haaland's future. The race is open with many clubs involved, Barça too. Work in progress."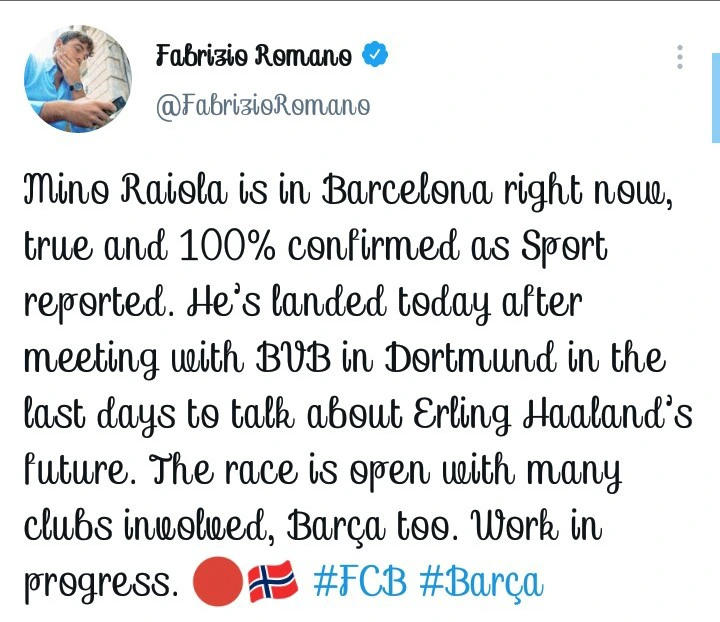 It reported that Mino Raiola travelled to Germany to initiate talks with Borussia Dortmund on the possibility of selling the superstar.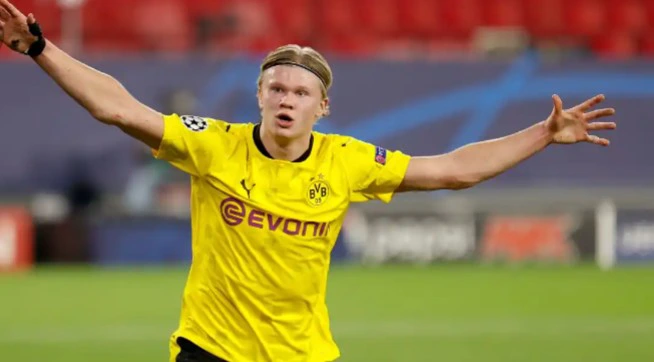 At the time of writing this article, it was reported by the trusted source that Haaland's agent and his father were doing initial talks with Barcelona. However, it is believed that nothing has been agreed but it is a progressive negotiations amid interest from other major clubs.
Fabrizio Romano continued "Mino Raiola is in Barcelona today together with Haaland's father. Meeting ongoing right now with Laporta, who dreams of Erling as new star. Here's nothing agreed yet. Barça are one of the many clubs interested in signing Haaland."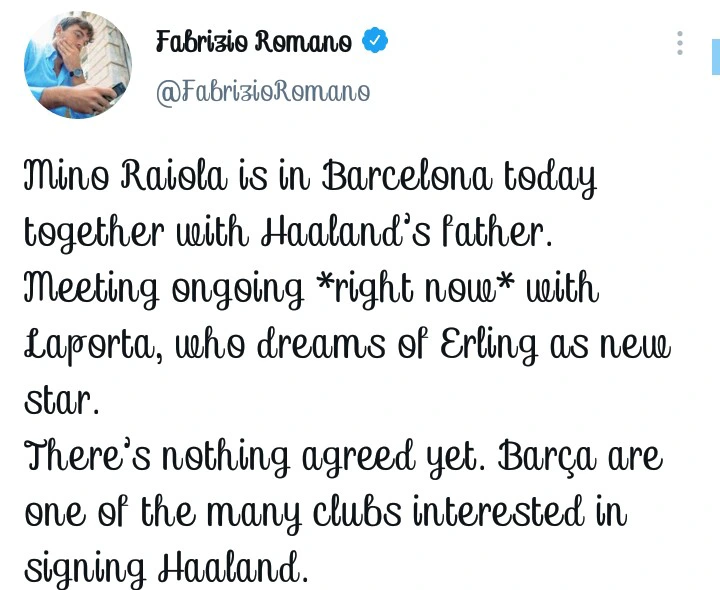 Manchester United fans believe Ole Gunnar Solskjaer's relationship with Haaland might play a crucial role in getting his signature. However, the broken relationship of Manchester United and Mino Raiola might be a painful sting in the heart of all fans around the world.