Bad news to Chelsea over the signing of a superstar La Liga player
The Blues have maintained close contact with the 22-year-old defender, but convincing the Liga side to sell may prove difficult. Sevilla have confirmed that they have turned down a bid for Jules Kounde, but they insist that they have no plans to sell the Chelsea target or any other player. Kounde, 22, has been linked with a summer move to Stamford Bridge.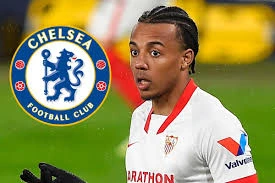 The Blues will have their work cut out for them if they want to sign the defender, though Sevilla did confirm that they would consider any subsequent offers if they come in. While there has been no direct contact between Chelsea and Sevilla, we understand that talks have taken place between intermediaries representing both clubs. According to additional reports, the Andalucians rejected Tottenham's offer rather than the Blues'.
Kounde's release clause has also been increased in recent weeks, rising from €80 million to €90 million, though Chelsea are hopeful that they will be able to agree on a lower price. However, in Castro's opinion, the onus is on the Londoners or any other suitor to persuade them to sell.