#BBNAIJA: Reactions as Laycon reveals his health status
After the housemates were done with their WAW challenge which Laycon, Vee and Dorathy emerged as the winner. They moved to the garden to have a brief discussion before they move to their bedrooms to have a goodnight sleep.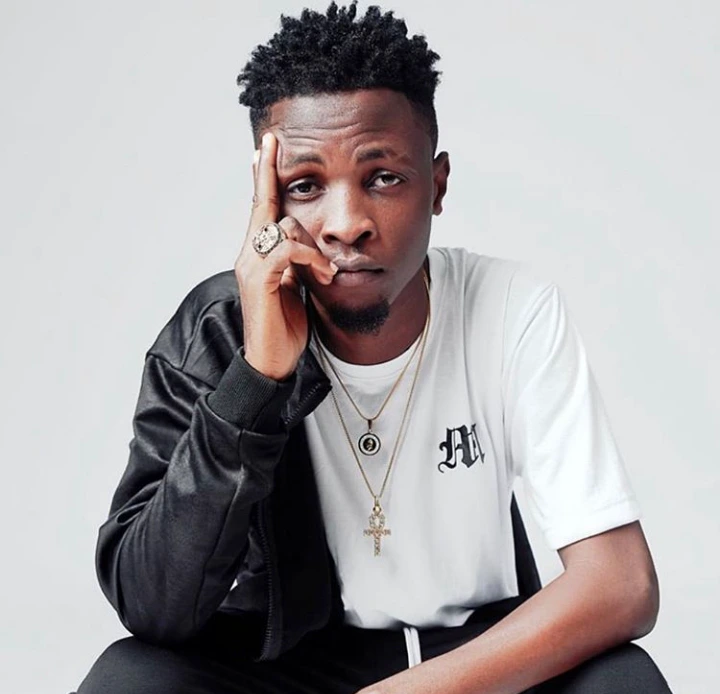 However the housemates decided to talk about tattoos , blood groups and genotypes. Nengi recounts how painful it was getting her tattoos done, Neo agreed and said he also felt a lot of pains after he got his tattoos done and hoped to have another one soon. While they were talking about their blood groups and genotypes they asked Laycon what his genotype is, during the conversation laycon revealed to them that he is Sickle Cell (SC) and he has been struggling with it since he was a child, he said "I am sickle cell and i have been with it since i was a child, it is dormant in me, I don't always like to tell people about my genotype because they always like to pity me and i don't like that".
The housemates were sad to here about it and assured him all will be well, Vee said that she has a lot of friends in the United Kingdom who are also sickle cells and it only affects black people all around the world. Neo also revealed that his cousin also has the sickness and urges them to stop talking about it as it hurts him.
@IAmMooree said: "I don't know why I'm putting my thoughts to words but I think its because I want y'all to pray for Laycon. 1. Erica cursed Laycon that he will die alone at 50. 2. Laycon reveals today that his genotype is SC. 3. My dad was SC. 4. We lost him at 54 coz of sickle cell anemia".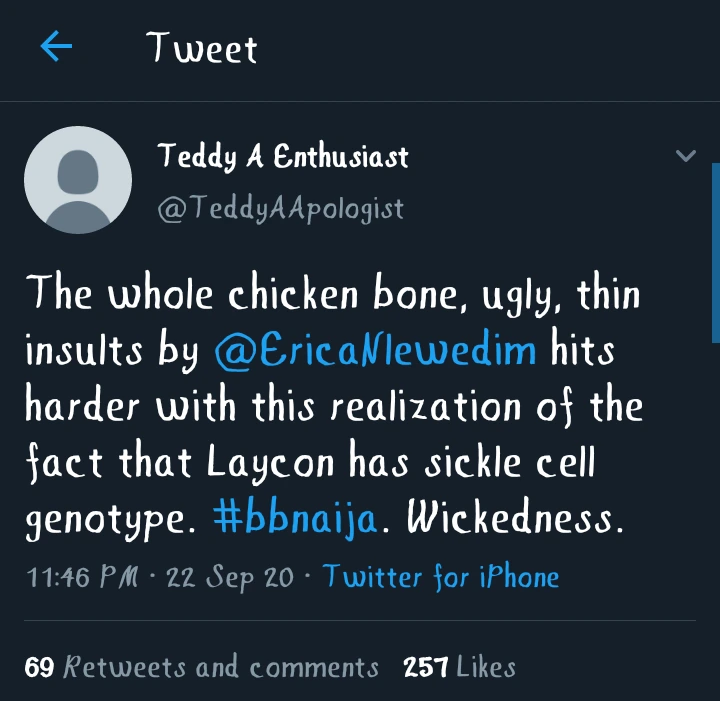 @TeddyAApologist said: "The whole chicken bone, ugly, thin insults by @EricaNlewedim hits harder with this realization of the fact that Laycon has sickle cell genotype. #bbnaija. Wickedness".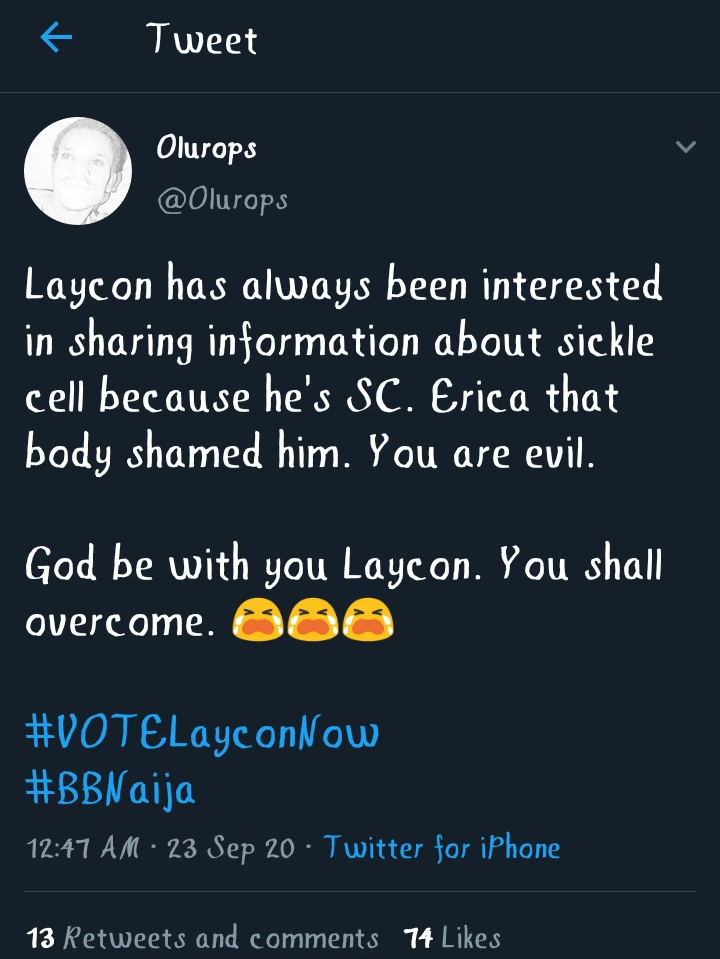 @Olurops said: "Laycon has always been interested in sharing information about sickle cell because he's SC. Erica that body shamed him. You are evil. God be with you Laycon. You shall overcome. 😭😭😭".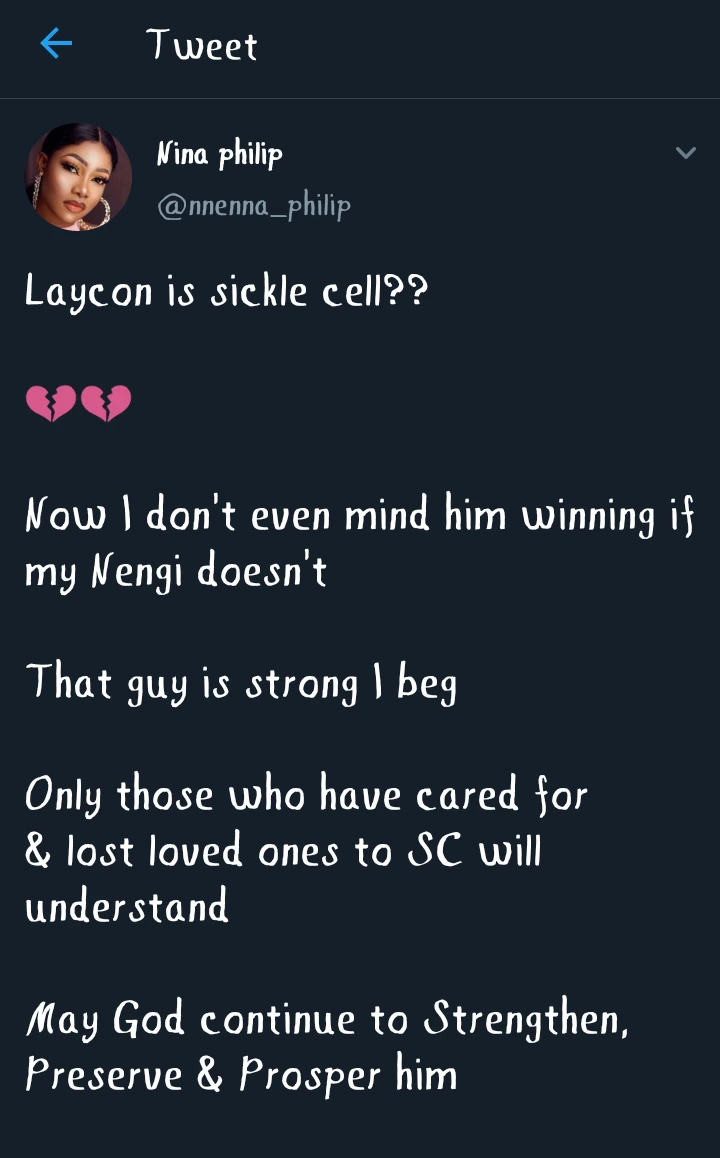 @Nina Phillip said: "Laycon is sickle cell??💔💔Now I don't even mind him winning if my Nengi doesn't. That guy is strong I beg. Only those who have cared for & lost loved ones to SC will understand. May God continue to Strengthen, Preserve & Prosper him".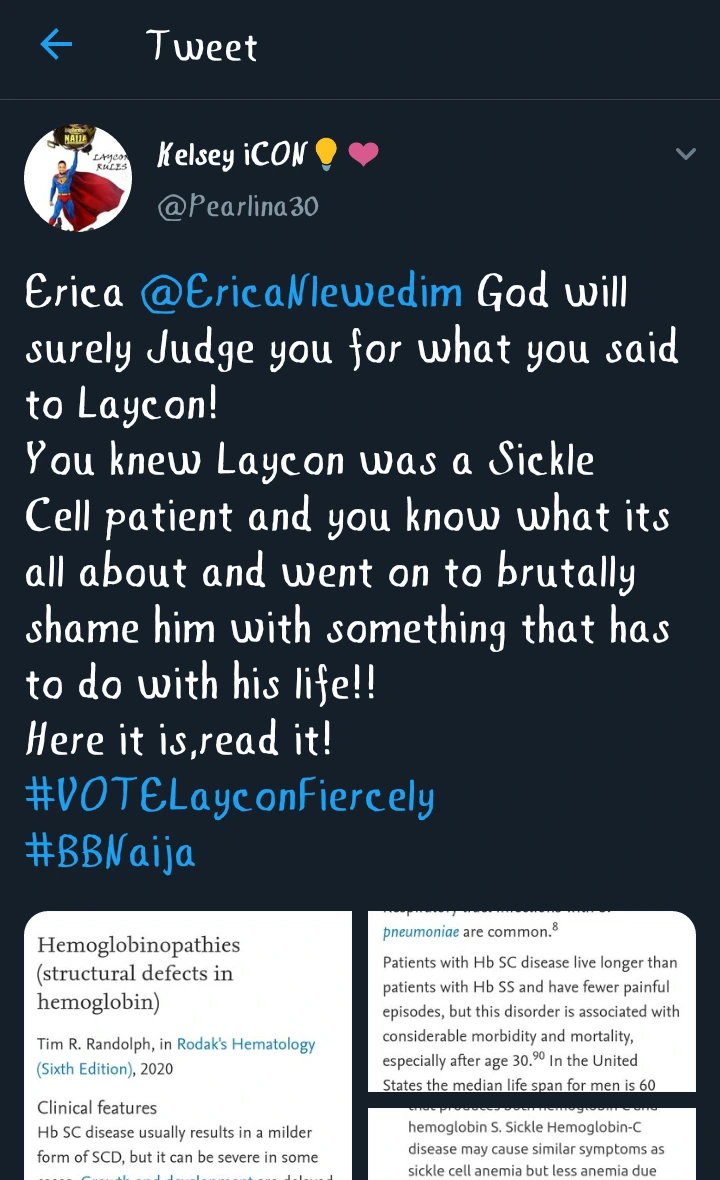 @Pearlina30 said: "Erica @EricaNlewedim God will surely Judge you for what you said to Laycon! You knew Laycon was a Sickle Cell patient and you know what its all about and went on to brutally shame him with something that has to do with his life!! Here it is,read it!".
@guzel said: "Ss, sc, cc are all form of sickle cell. Sc is usually less severe than ss. Laycon may have had crises when he was younger but wasn't detected due to unforeseen circumstance. For someone who have been bullied so much, he is very strong".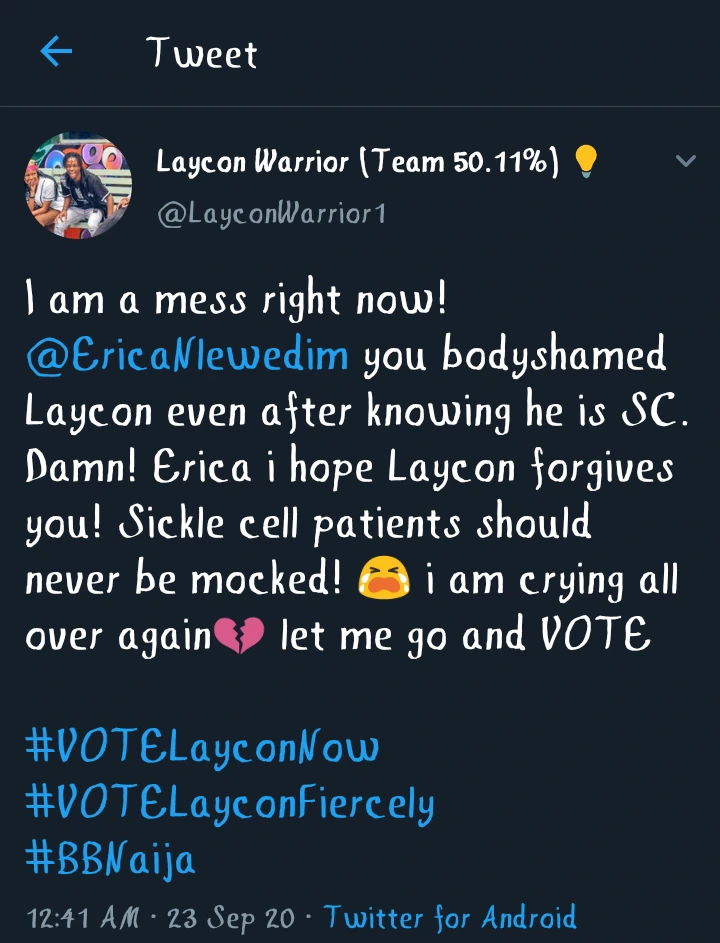 @LayconWarrior1 said: "I am a mess right now! @EricaNlewedim you bodyshamed Laycon even after knowing he is SC. Damn! Erica i hope Laycon forgives you! Sickle cell patients should never be mocked! 😭 i am crying all over again💔 let me go and VOTE".