Bishop Oyedepo opens up on becoming Nigeria's President
The Founder and Presiding Bishop of the Living Faith Church Worldwide, aka Winners Chapel, David Oyedepo has reacted to him becoming the President of Nigeria.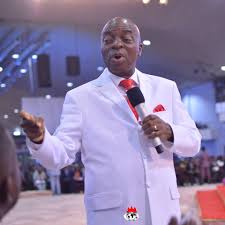 Bishop Oyedepo has been an outspoken figure against injustice in Government and all spheres of life.
The Clergyman who speaking on Sunday said that Nigeria is a great country but that he would see it as a demotion if he is called upon to become the president of the Nation.
He is the Bishop in charge of one of the largest congregations in Nigeria and has followers across the world.
According to the fiery preacher, nothing less than 100 countries that hook up to his services every Sunday at Ota, Ogun State, Nigeria.
"I'm saying it again, some are very upset about it, that's their problem. I will consider it a demotion if I were invited to be the President of this great country.
"It's a great country, it's a great honour for anyone to be President but that's not where I belong. I belong to above all nations," Bishop Oyedepo reacted.