BREAKING: 25-year-old EPL highly rated midfilder arrested
Premier League ace Yves Bissouma was handcuffed by cops and marched out of a nightclub in the early hours of yesterday.
The in-demand Brighton midfielder, 25, spent the day in custody after being arrested in the city.
A Brighton footballer in his 20s has been arrested on suspicion of sexual assault at a seafront nightclub in the early hours of this morning.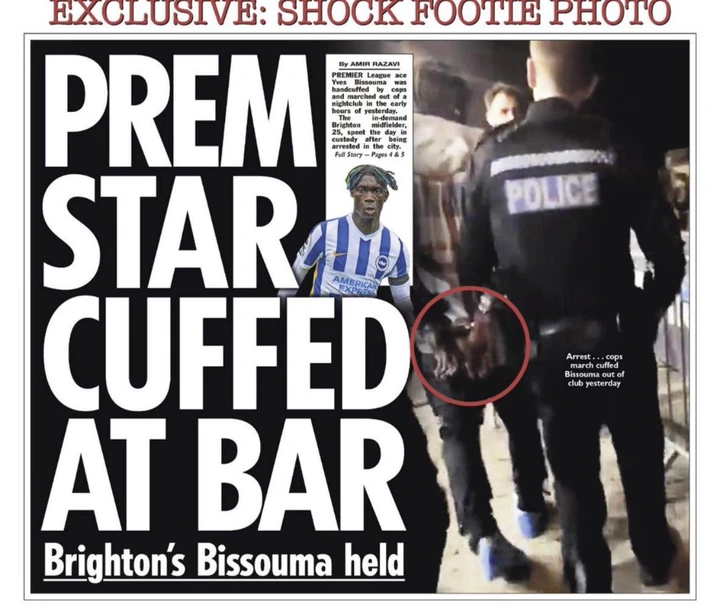 Yves Bissouma was linked to Manchester United in the summer the summer transfer window after Man United were in need to sign a Central Defensive Midfielder who could solve their midfield problems but the deal didn't click in because of signing of Cristiano Ronaldo.
Bissouma, a likely big-money target in the upcoming January transfer window, was then detained by officers at popular city venue The Arch before being led away in handcuffs at around 2am.
It is still believed that Man United will have to acquire for his signature in the next summer transfer window or in the January window.
Brighton are without both Yves Bissouma & Enock Mwepu (their big money midfield buy) due to injury,yet the fluidity of their build-up play has remained excellent. It's a sign that Graham Potter prioritises the functioning of the system rather than individuals.
When you see all the "jokes" and "banter" about the Bissouma rumour is when you see there really is an issue in society and misogyny is alive and kicking.
The only issue and misogyny is in the person who thought he was far enough above the law that he could possess any of the "plebs" he liked and do anything he wanted to them.
Such attitudes have consequences and one of those consequences is public ridicule.