BREAKING: Tuchel releases Chelsea starting XI against Real Madrid
Chelsea manager, Thomas Tuchel has released his starting XI against Real Madrid in the all important game in the ongoing UEFA Champions League quarter-final second leg.
Chelsea suffered a terrible home defeat as Karim Benzema got all three goals for the Spanish giants at Stamford Bridge.
Before the Starting XI was released
Chelsea will meet Real Madrid in the second leg of the Champions League semi-finals on Tuesday night. Last week's Captains were Azpilicueta and Benzema, but one of them may be out this week.
Real Madrid, however, has the upper hand going into the second leg at home, andwith Chelsea likely to push for a possible comeback, thanks to their strong away record this season and their Champions League comeback record in the past years, including coming back from a 3-1 first-leg defeat to beat Napoli 4-1 in the 2012 Champions League round of 16, Real Madrid has the upper hand going into the second leg at home.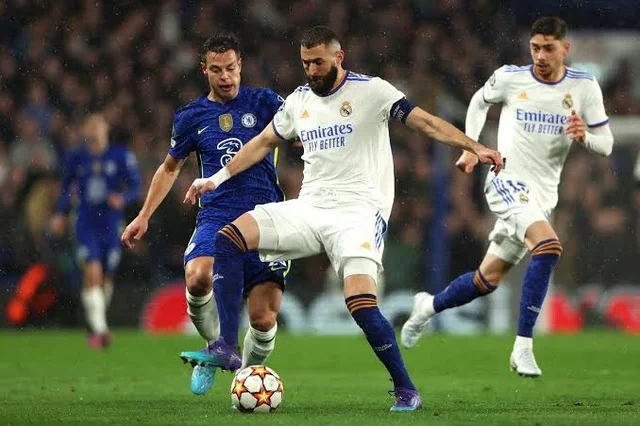 However, there are major concerns for both teams ahead of the vital match, as two players from each squad are expected to miss the match due to suspension, injury, or illness.
Cesar Azpilicueta and Romelu Lukaku both missed Chelsea's recent Premier League victory over Southampton, and Tuchel revealed after the game that Azpilicueta had tested positive for Covid 19 on Friday, and that he is a major doubt against Real Madrid, just like Lukaku, who was out due to a minor injury.
"Ever since yesterday, Azpi has had a positive Covid test. As a result, I can't make any predictions regarding it.
I have no idea what the regulations are when it comes to traveling or what's going on. To begin, a negative test is required. We have no choice but to hope and wait in this situation.
"Romelu, I'm still unsure. Because of his suffering, he was unable to complete the final training session. He couldn't come today, and the clock is ticking.
Let's see what happens once we depart the nation on Monday. Real Madrid will be missing Eder Militao, who was sent out in the first leg at Stamford Bridge after receiving a yellow card.
Following their league win against Getafe over the weekend, Ancelotti confirmed that Eden Hazard is still sidelined with an injury.
"With the exception of [Eder] Militao (who is suspended for the second leg), I believe everyone can play in the Chelsea game, with the exception of [Eden] Hazard, who is recovering from his operation."
If Chelsea wants to win against Madrid on Tuesday, they'll have to find a way to stop Benzema from scoring.