Celebrations at Stamford Bridge as Chelsea reach agreement to sign Bundesliga top striker
Chelsea are eager to get things going again as they are seriously looking to replace players who have either left or on the verge of doing so.
Chelsea could emerged the busiest as things are going in the summer transfer window.
As it stands, the Blues manager Thomas Tuchel is still hoping to sign at least three players considering the exit of his key individuals with potential exits still anticipated to happen.
The Germany tactician is on the verge of loosing Romelu Lukaku back to Inter Milan as the 28 year old is allegedly pushing for a return to Serie A. As a result, Chelsea have been linked with Manchester city's ace Gabriel Jesus as his possible replacement.
However according to the Sun Football, Chelsea has verbally agreed to sign Bayern Munich's attacker Robert Lewandowski as his successor if they miss out on Jesus.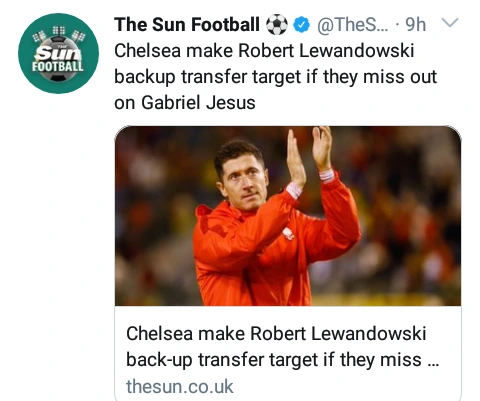 Jesus, 25 is allegedly preferring a move to Arsenal as he's keen on reuniting with Mikel Arteta, thereby forcing the Stamford Bridge heavyweights with nothing but to sign veteran Lewandowski.
The 33 year old was tipped to join Barcelona but a move is unlikely as the Spanish giants are experiencing a financial crisis.
Ideally, Lewandowski is a great player but not the kind of attacker Tuchel has ever wanted. We will have to wait and see what happens.