Cheering news from Stamford Bridge as Chelsea ready to complete transfer deal of a world-class player
Chelsea manager Thomas Tuchel is reportedly keen on bolistering his attacking department ahead of January transfer window by landing potential top targets that can literally sharpen his blunt forward force.
Despite having quite a number of talented players, the Germany boss feels that he should be having a wide range of selection in case of unexpected issues like covid-19 and injury crisis.
According to Football Insider, Chelsea are reportedly edging closer to landing Ex-Man United winger Deji Sotona after quitting the Old Trafford heavyweights during last year.
Sotona, 19 was unlikely to extend his stay with the Red Devils and therefore joined Nice with now the UEFA champions league winners keen on switching him back to premier league.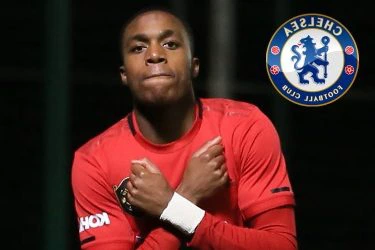 Tuchel is arguably impressed by sotona's terrific speed and the cutting egde he provides in the final third which can be of great help to his unperforming squad.
Meanwhile, Chelsea will be looking to bounce back into winning ways when they will be facing Brentford.