Chelsea Transfer Latest: Board approves signing of Lampard's target, set for medicals next week if…
Chelsea board are reportedly looking the way of Frank Lampard's target as the January transfer window is concerned.
Lampard is under pressure at the moment from both fans and the club's owner, and he is willing to do something special.
Recall that in the last 6 premier league game the club has won only one game which is not good results for such a big club.
After the club sending spree during the summer transfer window, nothing spectacular has happened about the team's play.
Abramovichis not comfortable with the squad and want to add in more quality to the style of play of his team.
The blues have been linked with some players including Moises Caicedo , Isco and currently have turned attention on Westham Midfielder Declan Rice.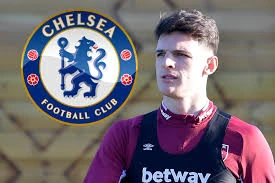 Reports after yesterday's game claimed that Lampard was not happy with Ng'olo Kante's game which has made him to quickly  look to complete Declan Rice's deal.
According to reports from Independent Sports claim that West Ham are willing to accept Chelsea offer for England International Midfielder if they include Antonio Rudiger on the bid.
The Hammers are valuing the Player at around £80m which Chelsea are not willing to pay at once.
Romano Fabrizio has also reported that the player may go directly into medical next week if Chelsea complete the deal.
Meanwhile, all eyes are on Chelsea manager and the board to make the deal a reality.