Eden Hazard return from Real Madrid and Erling Haaland signs for Chelsea, London Billionaire asks fans to choose
Chelsea fans have been given a task to determine what they really would have loved to happen to their darling club.
Fans have been asked to make their pick between returning Eden Hazard to the club or Signing Borussia Dortmund Star Striker Erling Haaland.
Frank Lampard is under tremendous pressure at the moment. The club is struggling for consistency and form in the league despite the huge amount of money that was invested in the club last summer.
Fans have suggested many solutions to fix the club's woes. Some of them think signing additional players will restore the club's form, others opined that the club will become formidable once more when all their summer signings adapt fully to the league.
London Billionaire and Chelsea enthusiast Frank Khalid has quizzes Chelsea fans on what they wanted most at the moment.
He tabled six different options and asked the fans to make their pick. The options are:
1. Hazard returns to Chelsea.
2. Frank Lampard to stay in charge as Chelsea Manager for the next 10 years.
3. Chelsea signing Erling Haaland.
4. John Terry to join Lampard's team.
5. Kepa regains his top form once more.
6. Werner to become the top scorer in the English premier league.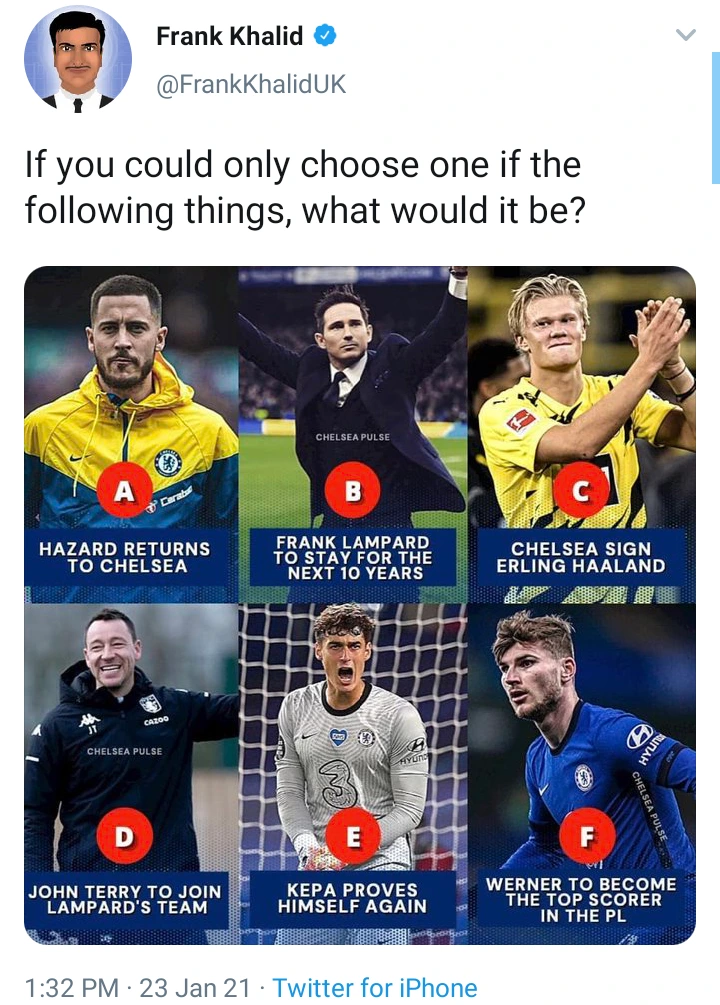 What will you choose among these options? Share your opinion by commenting. Follow for more updates.