Fans react after Chelsea announce new owner as Abramovich finally walks away
CHELSEA fans have taken to their social media platforms to react to the latest updates on the sale of the Stamford Bridge outfit.
Roman Abramovich has finally walked away and after series of billionaires and investors biding to buy Chelsea Football Club, Todd Boehly's consortium merged as the winner; and has officially agreed terms with Chelsea to acquire the club.
Below is a statement from Chelsea Football Club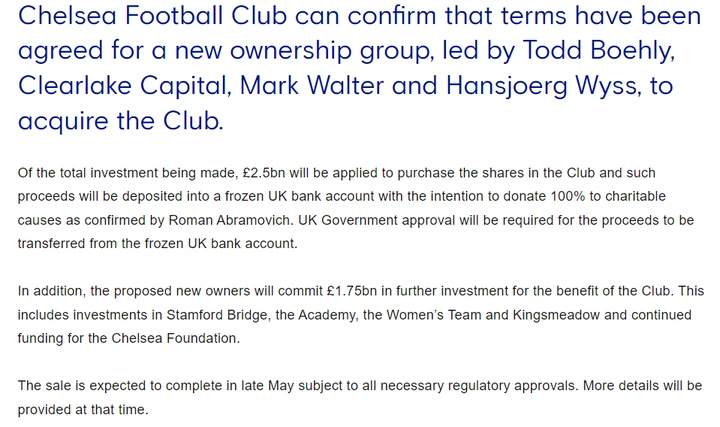 A reminder that Roman Abramovich bought Chelsea Football Club for £140 million, invested billions into the club and took no money from the sale, even writing off the £1.6 billion loan Chelsea owe him. He won every trophy in England and Europe as a Chelsea owner, and he is leaving Chelsea as Champions of the World. He is Undoubtedly the best owner in football history.
However, Todd Boehly has agreed the Anti-Glazer clauses that should easy any criticism over the involvement of America investment firm Clearlake capital, the agreement also includes:
No dividends or management fees taken for at least a decade.

No sale of any shares for at least a decade.

Strict limits on debt levels.
He also committed a further £1.75 billion in further investment for the benefit of the club over the next 10 years. This includes investment in Stamford Bridge, the Academy, women's team and Kingmeadow and the Chelsea foundation.
Meanwhile, fans reached on Twitter congratulating Todd Boehly consortium after Chelsea announced Club new owner, the fans equally thanked Roman Abramovich for all he has done for Chelsea.
Below are the reactions from fans.