How and why 21 persons die for struggling for food in a popular Church
Churches all over the country and abroad do engage in welfare programmes otherwise known as Christian Social Responsibilities.
Churches like the Redeemed Christian Church of God, Christ Embassy, Winners Chapel and others do give back to the society.
But now a welfare programme has gone wrong as no fewer than 21 persons were feared dead in an early morning stampede at a new generation church in Port Harcourt, Rivers State.
According to a witness, the incident happened during the fourth edition of the church's gift and food items distribution.
The witness said some of the invitees arrived since Friday while others arrived as early as 6.30am this morning for an event that was supposed to start by 9am.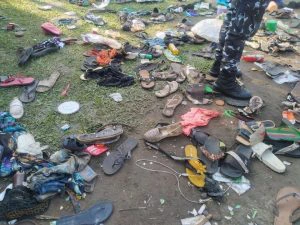 The witness said some persons who were supposed to have a sports session arrived at about 8am and opened the small gate which gave the surging crowd an opportunity to force their way in, resulting in the stampede.
"The incident happened this morning. The church invited people for it's fourth edition of food and gift items distribution.
Some came since Friday while many others came as early as 6.30am on Saturday.
"Those who were engaged in sporting activities opened the small gate and the surging crowd wanted to gain access through the small gate and got stampeded. I counted about 21 one dead bodies on the ground," he said.
He said many victims had been taken to an undisclosed hospital in Port Harcourt.
According to Classic FM Portharcourt, a pregnant woman and Three children were recorded dead at the Church.
The occassion was the annual 'Shop For Free programme', A Public Gift Giveaway event aimed at helping those in need.
It was gathered that members of the public tried to force in their way through the gate as early as 6:30am which resulted to a stampede and eventually the deaths recorded.
As at the time of filing this report, There was no official statement from the Church.
When contacted the Rivers state Police Command Public Relation Officer, Iringe Grace Koko, said she was on her way to the scene of the incident to get accurate information.
Sunrisenewsnigeria Views
The Church programme has not started and this should take the blame off the Church.
Secondly, the people who came for sports activities too could not be blamed because they will not know that the crowd will try to rush in.
Another thing about the story has to do with the people who manage the facility. They should have been proactive about safety and call off other programmes upon seen the crowd.
Finally, the reason Why this incident happened is because people don't usually have patience. We always need to exercise decorum when in the public places.