Igbo Elders send message to Southeast Governors over Eastern Security Network launched by Nnamdi Kanu
Igbo Elders from the Conference of Igbo Elders for Peace and Development, have finally forwarded a message to Southeast Governors over the Eastern Security Network.
The Eastern Security Network was reportedly launched by Nnamdi Kanu, leader of the Indigenous People of Biafra.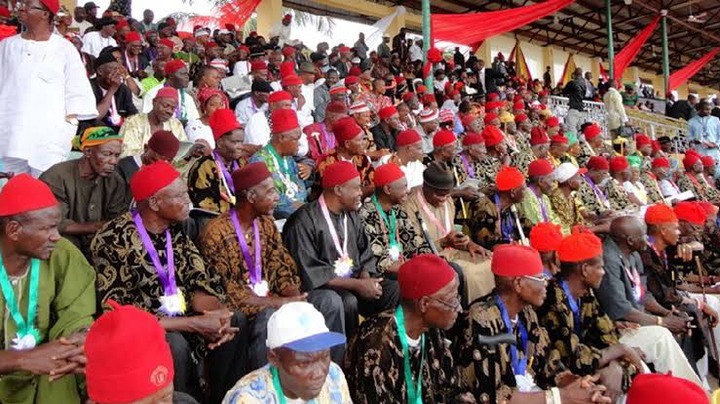 Apart from the message to the Governors of the region, the elders also called on Ohanaeze Ndigbo to rise up and do something about the security outfit by the proscribed group.
They want the apex Igbo group to condemned the development and also move to action against the security outfit.
According to the Igbo elders, the security outfit, is illegal and the governors should immediately come out to make sure that the ESN does not allow to operate in the region.
The elders also called on the leadership of Ohanaeze Ndigbo not only to denounce Kanu's action but advise people of the region against falling prey to Kanu's illegal activities.
Also, they charged the "South-East governors and businessmen in the region to pull resources together and form a security outfit like Amotekun or civilian JTF backed by law, which can be controlled and be effective."
The Igbo elders said while they recognize the desire of the people to protect themselves through community policing, given the worsening security problems in the country, it must be done within the country's established laws.
The South East elders operating under the aegis of Conference of Igbo Elders for Peace and Development, in a statement, said Kanu's action does not have their blessings and asked Nigerians to see his action as personal and not representing the region.
The statement that was signed by Dr Festus Edochie, National President and Barrister (Mrs) Esther Amadi, National Secretary of the group, stated that they were in shock to see the trending video of the young men bearing arms in the name of defending the region.
Their statement reads in part,
"We condemn this group and its activities in its entirety and call on all South-East governors and well-meaning Ndigbo to come out and condemn this act of criminality being sponsored by a self-appointed leader of a proscribed Indigenous People of Biafra, IPOB, Mazi Nnamdi Kanu".
The elders insisted that IPOB has no legal backing to launched such security outfit.
"It is not in the place of IPOB to organize such a group armed with automatic weapons, no lawful country or citizen will support that, even the civilian Joint Task Force which is supported by law with members assisting in fighting terrorism in Borno State and other parts of North East don't use automatic weapons," they added.