Lewandoski's wife drops transfer hint as Chelsea search Lukaku's replacement
The race for summer transfer move may have begun as top strikers in Europe are linked to join another top football clubs.
As rumors surrounding Robert Lewandowski's future continues to swirl, Anna Lewandowski, the striker's wife, has hinted a possible move to Spain on social media.
CHELSEA will be looking for replacement for their records signing, Romelu Lukaku as he is strongly linked to return to Inter Milan.
For Bayern Munich's 33-year-old striker, Lewandowski it has become a hot topic of speculation in recent months, since his contract with the German club expires in about fifteen months.
The Legendary forward is said to be unhappy and looking for a way out at the end of the current season since meaningful negotiations regarding a new deal is yet to take place.
With the Blaugrana in need of a new target man in the summer, Barcelona has surfaced as a possible destination for the Poland international.
There have been significant links to the center-forward, with sources stating that Barça officials have already met with his agent, Pini Zahavi, to work out a deal before the start of next season.
Bayern Munich, on the other hand, is clear that Lewandowski is not for sale and hopes to tie him to a new deal as soon as possible.
In the midst of it all, Anna Lewandowski, the former Borussia Dortmund striker's wife, posted a cryptic story on her Instagram profile: "Hello folks! I've started learning Spanish! Do you have any tips? Please let me know!"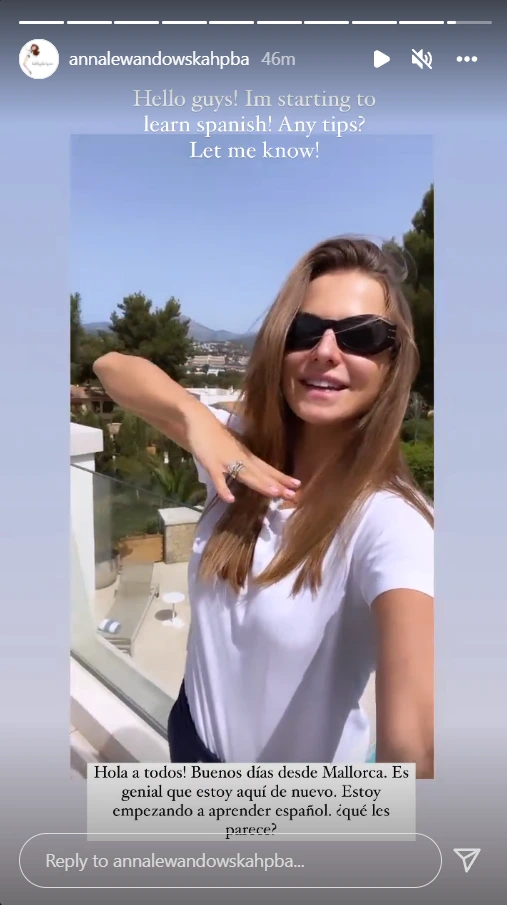 Given Lewandowski's links to a possible move to Barcelona, the timing of the post undoubtedly raises concerns.
The 33-year-old is having another stellar season for Bayern, scoring 47 goals in 41 outings. The German outfit are hoping to keep him at the Allianz Arena for more years.
However, it remains to be seen whether the Poland international is willing to entertain that option, with rumours saying that he already has a deal in place with Barcelona, despite club officials quickly refuting such claims.