Nigerian man cries after her fiancee travels abroad with N3m he kept in her account for wedding plans
Wedding plans have gone sour after the man who has been thinking of how to settle down and become a husband was thrown into weeping.
His dream could not be realised, not at the moment.
According to a  Nigerian man who shared an unbelievable story involving his brother and fiancée who abandoned their marriage plans.
According to the man identified as @Eederah_, his brother deposited N3 million into his wife-to-be's bank account in preparation for marriage.
However, she had other plans, so the lady used the money to process her visa and traveled out of the country.
The tweep wrote; "My brother deposited 3million Naira into his wife to be account in preparation for their marriage.
The girl use the money to process Visa and travelled out"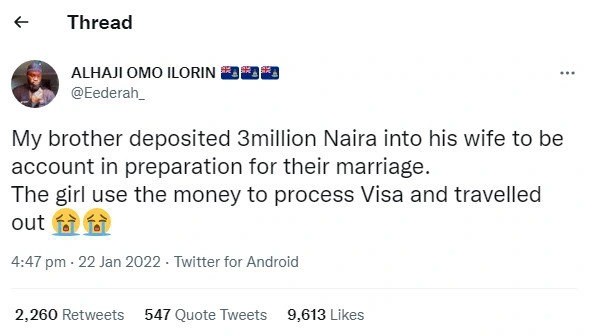 @mazi_ononuju; Which country 3million wan carry her go? Unless it Germany or Poland
@i_am_Okso; But 3million fit carry her go Yankee sha
@kingzeello; Your bros account na student account?? Him no fit keep him money himself