"We don't want you in our club", Blues fans told potential next Chelsea owner
CHELSEA owner, Roman Abramovich has put the club for sale and many offers have already been reported and the fans are also having their says as the Stamford Bridge outfit is on the verge of changing ownership.
Conor McGregor has reaffirmed his desire to own a football club and said he "doesn't talk in jest".
The UFC superstar said on Twitter this week that he was exploring a deal to own Chelsea after current owner Roman Abramovich confirmed his decision to sell the Premier League club.
The Russian-Israeli billionaire is believed to want to shield Chelsea from any fallout from Russia's invasion of Ukraine, with calls for Abramovich's assets to be frozen.
There was talk of candidates likely to replace him with at least three consortia that would be willing to make offers.
Then the Irish MMA legend threw his hat in the ring.
McGregor has previously expressed interest in buying Manchester United, who he backs, although the sincerity of his suggestions was unclear at the time.
He is thought to be worth several hundred million, making him one of the richest athletes on the planet, thanks to an impressive career in the Octagon as well as a number of shrewd business deals outside of this one.
That would be well below the £3billion Abramovich would ask for and tweeted on Friday that his opening offer would be £1.5billion.
Many thought McGregor was joking about his offers, but the former two-weight UFC champion insisted he was serious.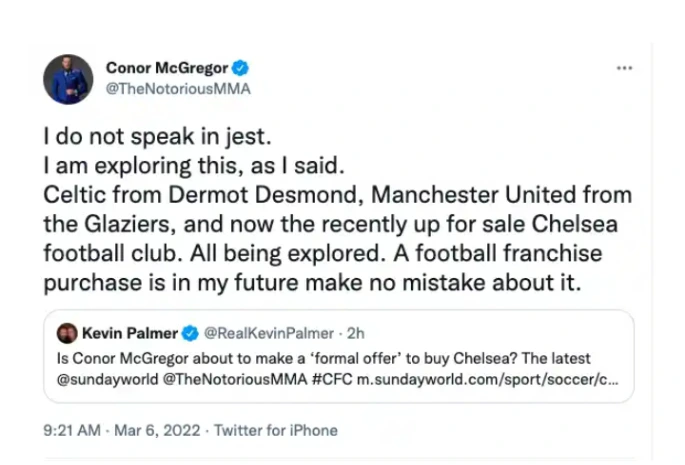 He wrote on Twitter: "I'm not talking in jest. I'm exploring this, like I said.
"Celtic from Dermot Desmond, Manchester United from Glaziers, and now Chelsea Football Club recently put up for sale. Everything is explored.
"Buying a football franchise is in my future, make no mistake about it."
Meanwhile some Chelsea fans have been commenting that they don't want him in their club as replacement for their own Roman Abramovich.
A lot offers have since then flooded Chelsea owner and fans and followers of the Stamford Bridge outfit are waiting to see how the episode goes.